So, it's fast approaching the end of May and my blog plan for the next few weeks is all pointing towards
barbeques
and
summery whites and rosés
. And then I look outside. It's grey. This blog was meant to be about suggesting a wine to go with
barbequed food
but giving the Autumnal conditions of late I've changed tack a little. Today I will be suggesting our
best-selling wine
,
Mas du Soleilla 'Les Chailles' 2009
and pairing it to a hearty, warming
sausage casserole recipe
. [caption id="" align="aligncenter" width="448"]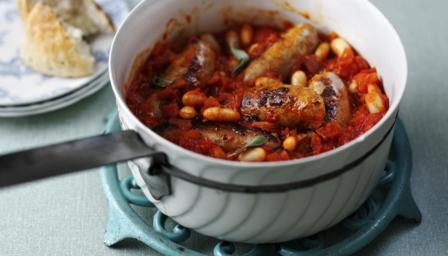 Sausage Casserole - ideal with Les Chailles[/caption] The recipe has a lot of ingredients but is incredibly
simple to make
and will certainly keep you warm and fuelled on these chilly early 'summer' evenings. Pair with Les Chailles for the perfect comforting dinner.
What You Need
2 tbsp sunflower oil 12 good quality pork sausages – buy the best you can find, it'll be worth it. 6 rashers of streaky bacon – cut into 2cm pieces 2 onions – thinly sliced 2 garlic cloves – crushed ½ - 1 tsp chilli powder and or smoked paprika – adjust to your taste 400g can of chopped tomatoes 300ml chicken stock 2 tbsp tomato purée 1 tbsp Worcestershire sauce 1 tbsp dark brown sugar 1 tsp dried mixed herbs 2 bay leaves 3-4 sprigs of thyme 100ml red – optional (Les Chailles, perhaps) 400g can of butter beans Salt and freshly ground black pepper  
What You Do
  Heat the oil in a non-stick frying pan. Gently fry the sausages for about 10 minutes, turn them so they get a lovely even browning. Transfer into a large saucepan or flame proof casserole dish and set aside. Fry the bacon in the frying pan until the pieces begin to brown and crisp then add them to the sausages. Next, fry the onions in the frying pan on a medium heat. Stir regularly and allow them to soften. There should be enough fat left in the pan from the sausages and bacon but if not add a little more oil. Add the garlic and cook for another couple of minutes, stirring frequently, until the onions begin to colour. Sprinkle over the chilli powder and paprika and stir through. Now stir in the tomatoes, stock, tomato purée, Worcestershire sauce, sugar and herbs. If you're using wine, add that too, otherwise add the same quantity of water, and bring to a simmer. Carefully pour the contents of the frying pan into the pan with the sausages and bacon. Put back on the heat and bring back to a simmer. Cover loosely with a lid, lower the temperature and simmer for 20 minutes, stirring occasionally. After this time drain the beans, rinse with cold water and stir into the casserole. Cook for a further 10 minutes, stirring now and then. Season to taste with salt and pepper and serve with rice or crusty bread. The dish can be frozen so is ideal to make in a big batch (that is if there's any left to freeze). [caption id="" align="aligncenter" width="178"]
Mas Du Soleilla - Les Chailles 2009[/caption]
Mas du Soleilla 'Les Chailles' 2009 
This dish is absolutely packed with lots of flavours from sausages, herbs, bacon, tomatoes and wine, food and wine matching is fairly easy as we want a wine that exudes elegance yet has the power to match the depth of flavour in the dish.
Mas Du Soleilla 'Les Chailles' 2009
is the perfect match being 90%
Syrah
and 10%
Grenache
. Grown in the heat of the
Languedoc
, it is cram packed full of forest fruit juiciness, and then there's the influence of '
La Garrigue'
. This is wild growing scrub made up of herbs including thyme, rosemary and sage. It covers the landscape around the vines and the influence can be noted in Les Chailles. It is succulent and complex so with all the herby depth of flavour in the sausage casserole it makes the perfect food and wine match. Les Chailles is available exclusively at the Perfect Cellar in the U.K. either online or why not visit us at The
Clerkenwell Collection
? Try the dish with Les Chailles yourself and let us know what you think.