LIMITED QUANTITY - MAX 60 cases iof 6 bottles or 30 Cases of 12 bottles

THE ULTIMATE 2009 BORDEAUX EXPERIENCE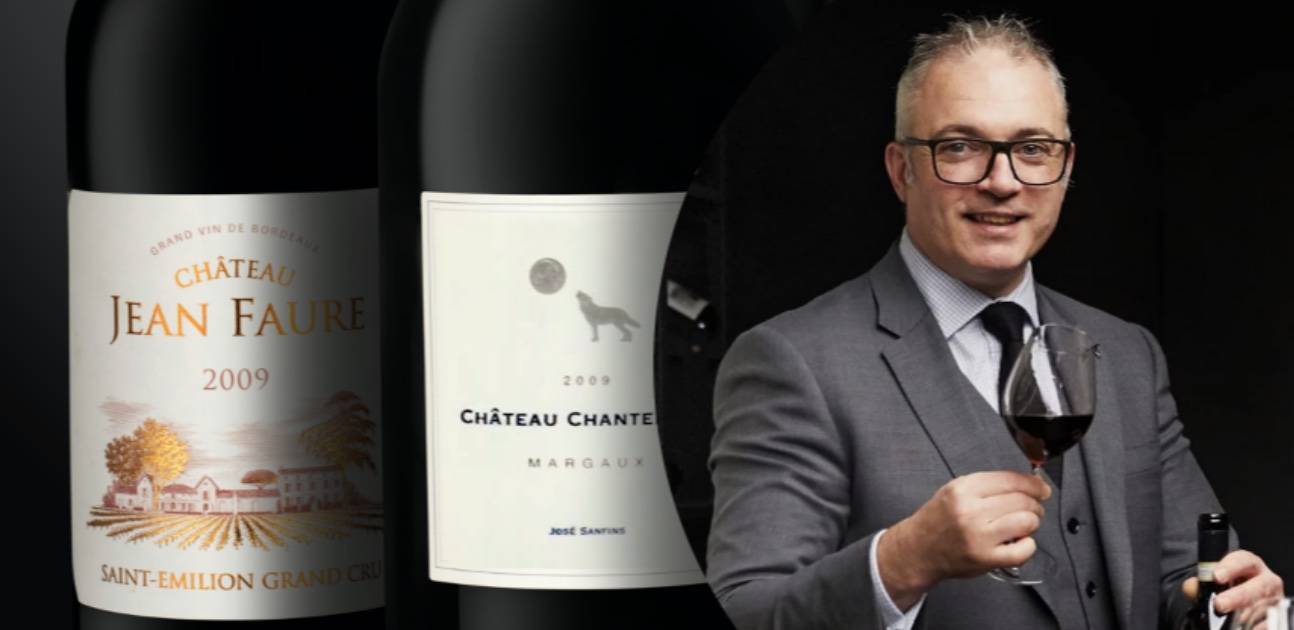 We are delighted to introduce a once in a lifetime experience to enjoy three rare iconic 2009 wines from Bordeaux - The package includes:
1) A Live Virtual Tasting by one of the world most prominent Master Sommeliers, Christopher Delalonde MS (Winner of Best Sommelier UK Award) and Jon Reeves (a representative from the Chateaux Chantelune and Vimieres in Bordeaux).
2) A Case of 6 or 12 Bottles which includes 2 or 4 of the rare 2009 Château Les Vimières 'Le Tronquéra' Margaux, Château Chantelune Margaux 2009 and the Château Jean Faure Saint-Émilion Grand Cru 2009.
After you order the experience - we will deliver your chosen case of wine and email you a private invitation to the Live Virtual Tasting with Christopher Delalonde MS and Jon Reeves from Bordeaux.
With this Experience we are making the last few cases the Vimieres and Chantelune 2009 available, together with a tasting with both Christopher and Jon which is simply an experience your will not forget.
More details on the experience and the wines below.
Limited Space - Only 60 cases (of 6) and places to the tasting available.
- AVAILABLE FOR A LIMITED PERIOD - UNTIL STOCK LASTS
- AVAILABLE FOR A LIMITED PERIOD - UNTIL STOCK LASTS
YOUR WINE TASTING EXPERIENCE INCLUDES:
1) A LIVE TASTING WITH CHRISTOPHER DELALONDE MS and JON REEVES on June 7th 2021 at 17.30pm
Christopher, winner of the Best UK Sommelier Award, has worked with countless Michelin Starred restaurants and is one of the only 260 Master Sommeliers in the world.
Jon Reeves has been representing Chateaux Vimieres and Chantelune for decades and has an incredible knowledge of these wines and Bordeaux in general.

A tasting with Christopher and Jon is simply an experience money cannot buy.

2) 6 or 12 BOTTLES OF EXCEPTIONAL and RARE 2009 BORDEAUX WINES:
Château Les Vimières 'Le Tronquéra' Margaux 2009
This wine is a piece of history and when sold out - it will be wine money cannot buy ! The owner of Château Les Vimières, Jacques Boissenot, was central to the development of new winemaking techniques in Bordeaux before he sadly passed away in 2014. Jacques had his hand on pretty much every First Growth production since the 1960s and was voted Decanter magazine's Winemaker of the Decade in 2010. This Margaux from the outstanding 2009 vintage amply demonstrates how he led the way for quality winemaking over a 50 year career. Perfect Cellar acquired the entire 980 bottles produced by Jacques in 2009
2 * Château Jean Faure Saint-Émilion Grand Cru 2009
93 points Wine Spectator. One of Saint-Émilion's most prestigious Grand Cru's located right next door to the famed Château Cheval Blanc. From the oldest surviving wine producing château in Saint-Émilion comes this incredible Grand Cru wine from an historic vintage. The 2009 is ready now but will keep for decades to come - A sensationally moreish, fragrant and textured wine created by the renowned Olivier Decelle. If you like Cheval Blanc 2009 (£900 a bottle), you'll love this! Red wine at its best ....
2 * Château Chantelune Margaux 2009
Château Chantelune is a jewel located on top of the highest hill in Margaux, Château Chantelune is a unique property. Its previous owner, Mr. Soubrane was a carpenter who believed in felling his trees by moonlight, claiming this gave the best quality wood. His practice gave the property its name, meaning "sing to the moon." He sold his land to José Sanfins, director at third growth property, Château Cantenac Brown. Forty year old vines thrive in the poor gravel-sand soils, the vines digging deep for water and nutrients making them strong and competitive. Production is limited to just 400 cases. The small size of the vineyards allow Jose Sanfins to produce small quantities of exceptional fruit, and so the best quality wine

No matter what you pick, you are guaranteed an absolutely cracking bottle. Service was faultless and delivery quick – and NO plastic packaging! Great to see a small business like this showing us how it's done. Have and will recommend to friends! Keep it up guys. Cheers"
I received my first order from PC last week. Amazing Packaging and Service. The choice of wines was really interesting and I was impressed with the first bottle at the weekend - a French rose from Touraine Amboise bottled by Xavier Frissant, a richer fruity flavour which went really well with fish and salad. Every wine so far have been incredible
Delicious reds. My Perfect Cellar order arrived this week- fast service and great quality wines. Enjoyed the change of pace and variety from my local wine shop! No plastic in the packaging which I liked a lot! The team is always extremely helpful !